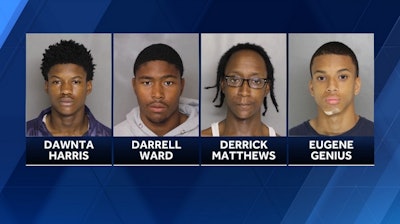 The four teenagers charged in the killing of Baltimore County, MD, Officer Amy Caprio were indicted Wednesday by a grand jury, reports WBAL-TV.
Officer Caprio was fatally struck by a vehicle May 21 while responding to a suspicious vehicle call.
Derrick Matthews, 15, Darrell Ward, 16, and Eugene Genius, 17, are accused of burglarizing a house while Dawnta Harris, 16, waited outside in a Jeep and the fatal encounter occurred. The teens were indicted on charges of first-degree murder, burglary, and conspiracy to commit burglary.