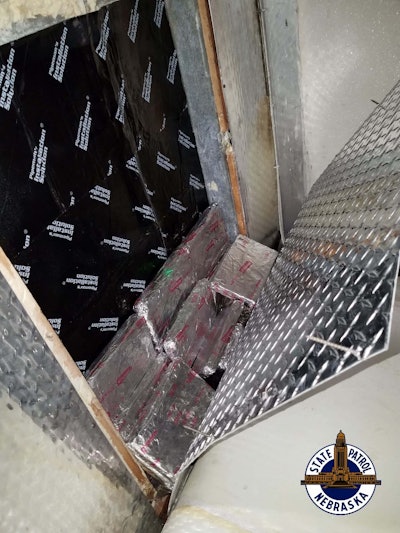 Troopers with the Nebraska State Patrol have seized 117 pounds of narcotics during a traffic stop on Interstate 80 near Kearney, including 44 pounds of a powder that is thought to be fentanyl.
The traffic stop occurred at approximately 10:20 a.m. on Thursday, April 26, when a trooper observed an eastbound 2013 Freightliner truck-tractor and semi-trailer driving on the shoulder near mile marker 280. During the stop, the trooper became suspicious of criminal activity.
Troopers searched the vehicle and discovered a false compartment located in the empty trailer. The compartment contained 42 foil-wrapped packages containing 73 pounds of cocaine and 44 pounds of an unknown powder suspected to be fentanyl. The two narcotics carry an estimated street value of $5 million-$10 million, the NSP reports in a press release.
Because of the dangerous nature of the substance, troopers do not perform field testing on suspected fentanyl. Testing at the Nebraska State Patrol Crime Lab is being utilized for confirmation.
The driver of the truck, Felipe Genao-Minaya, 46, and passenger, Nelson Nunez, 52, both of New Jersey, were arrested for possession of a controlled substance with intent to deliver and no drug tax stamp. Both men were lodged in Buffalo County Jail.