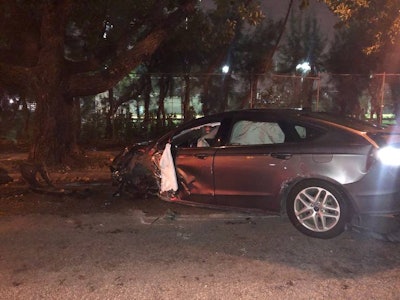 A homeless man stole an unmarked Miami Beach police car in South Beach on Sunday night, police say. He sped south on Meridian Avenue, striking cars parked on the east and west sides of the street, before losing control of the vehicle at 13th Street and Meridian Avenue, according to an arrest report released Monday.
The suspect, 25-year-old Leon Daybrell Perrymond, was taken into custody and charged with third-degree grand theft of a vehicle, aggravated battery of an officer, fleeing police lights and sirens, and unlawful use of a police insignia on a motor vehicle, according to the arrest report. The report lists him as homeless.
No bystanders or police officers were injured, Miami Beach police spokesman Ernesto Rodriguez said in an email to the Miami Herald on Sunday night.