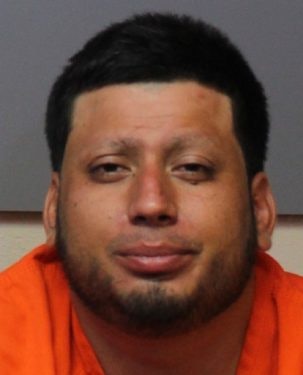 Two Winter Haven, FL, officers were injured after encountering a man in a wheelchair wielding a 9-inch knife. Both officers sustained non-life threatening injuries and were treated and released at the scene, police report.
Just after midnight Friday, officers responded to a bar where a man in a wheelchair was reported to have a large knife attached to his wheelchair and he constantly would take out and show around. He left prior to law enforcement arriving, a Winter Haven Police Department press release says.
When officers arrived, they found 29 year-old Emmanuel Ruiz Mejia around the corner in front of a business just beside the parking garage.
As officers approached Mejia, they told him they were there investigating a possible disturbance, but Mejia attempted to roll past them in his wheelchair. A large sword-style knife was seen on the back of the wheelchair and was immediately removed for safety reasons. As officers continued to attempt to speak with him, Mejia placed his left hand under his thigh and appeared to be clinching something. Mejia would not comply with commands to show both hands and officers feared he was hiding a weapon. Mejia continued to refuse commands to show his hands. Officer Kristopher Corley pulled his agency issued Taser and continued to command Mejia to show his hands. After numerous commands and Mejia continuing to refuse to show his hands, the taser was used to gain compliance. Mejia pulled his hands from under his thighs and a large serrated knife was plainly seen in his hand. He refused to surrender the knife and he was tackled to the ground in another attempt to get the knife. At this point Mejia thrust the knife towards Officer Kristopher Corley's face causing lacerations from his neck and across his face, the police report.
Officer Edgardo Cruz deployed his taser and at the end of the cycle, Mejia reportedly picked the knife back up and threw it directly at Officer Cruz causing a laceration on his hand as he deflected the weapon.
Mejia was handcuffed and taken into custody. After being medically evaluated at Winter Haven Hospital, he was transported to Polk County Jail and booked on two counts of aggravated battery on a law enforcement officer, two counts of resisting officers with violence, and four counts of resisting officers without violence.
"We are thankful that the injuries sustained to Officers Corley and Cruz are minor and they ultimately can go home to their family, said Chief Charlie Bird. "This guy had no regard for life whatsoever and he is where he belongs and hopefully will stay there for a long time."