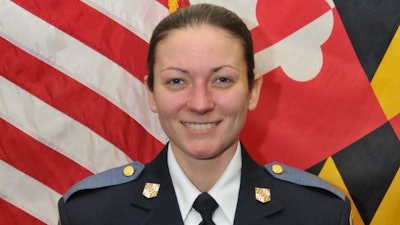 Attorneys for the teenager accused of running over and killing Baltimore County police Officer Amy S. Caprio called for the public release of body camera footage from the incident, saying their client was in "survival mode" when he ran over the officer and her death was an "accident."
Wyndal Gordon and Warren Brown, two prominent Baltimore defense attorneys who are representing 16-year-old Dawnta Harris, said Thursday morning that the footage will help answer questions surrounding Caprio's death, and ultimately help their client's case. They called on Baltimore County State's Attorney Scott D. Shellenberger to release the video.
Harris is charged with first-degree murder; police say he struck Caprio with a stolen Jeep Wrangler Monday afternoon in Perry Hall, MD. He is one of four teens charged as adults in her death.
Gordon said he wants to know why Caprio demonstrated "aggression" toward Harris and why she drew her weapon during what "amounted to a traffic stop." Gordon said his client couldn't see where he was going when he ducked as Caprio fired her gun, and he hit the gas, the Baltimore Sun reports.
"If someone's got bullets whizzing by your head, you're in survival mode, you're trying to survive," Gordon said. "This was not an intentional killing. … This was an accident."