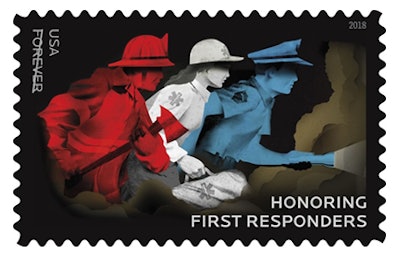 The U.S. Postal Service is unveiling a new stamp honoring first responders.
The new Forever stamp will be available starting later this year. It features a firefighter, an EMS worker, and a law enforcement officer all racing into action, with the officer "shining a flashlight toward unknown danger ahead," according to the Postal Service.
Creators say the dark background and smoke are meant to depict the range of situations that first responders face every day. The stamp was created by artist Brian Stauffer, art director and designer Antonio Alcalá, and designer Ricky Altizer, reports WITN.
The postal service says it hopes the new stamp will bring attention to the skill, dedication, and uncommon bravery of our nation's first responders.