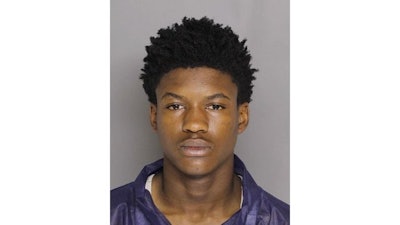 The 16-year-old suspect charged with running over and killing Baltimore County police officer Amy Caprio Monday was under house arrest for previous car theft offenses at the time of the attack.
Investigators said Harris, who is charged as an adult with first-degree murder, admitted that he stayed in an allegedly stolen Jeep while three associates -- 15, 16 and 17 years old -- burglarized a house in Perry Hall, MD. His associates could face felony murder charges in the case.
Investigators said Harris admitted that when Caprio arrived and demanded he exit the Jeep, he instead drove at her, WBAL TV reports.
Harris' record in the juvenile system shows repeated arrests. Between December and March, he was arrested four times for car theft, and he was bounced between programs in the community. One case involved the theft of a car while he was in a juvenile program in Montgomery County in March.
While under house arrest and wearing an ankle bracelet, police say Harris stole the black jeep used to kill Officer Caprio, WMAR TV reports. His mother had reported him as AWOL.
Maryland Secretary of Juvenile Services Sam Abed said the court acted with the Baltimore City State's Attorney Marilyn Mosby and the public defender to let him out on house arrest.
WMAR News reached out City State's Attorney Marilyn Mosby's office asking for comment on Abed's claim that his department wasn't privy to Harris being put back on house arrest, but we haven't heard back at this time.