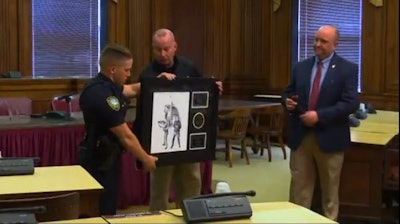 VIDEO: West Virginia Officer Shot in Burglary Recognized for Bravery
A Charleston, WV, police officer who was shot in the line of duty was recognized for his bravery Tuesday. The award came from the company that makes the body armor that saved his life, reports WOWK-TV.
Patrolman E. Seth Johnson received the Point Blank National SAVES Recognition Award.
In November 2017, Johnson was responding to a burglary on Albert Street when the suspect shot him in the front upper torso which was protected by his Point Blank ballistic vest. Because the vest stopped the bullet, the officer was able to get up and return fire on the suspect, reports WSAZ.
"You never know what you're going to encounter. And the vest is something that we all put on every day not knowing. It just takes that one time and it really pays off," Johnson told WOWK-TV. "It saved my life that day, without a doubt."