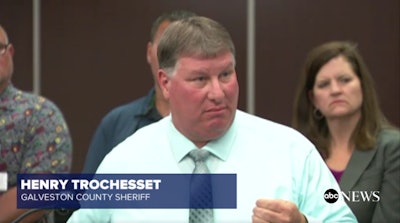 VIDEO: Sheriff Praises LE Response to Texas School Shooting
"Heroes" inside Santa Fe High School last week cornered the mass shooter within four minutes, keeping him contained until additional officers arrived to evacuate teachers and students, the Galveston County, TX, Sheriff said.
"Four minutes is about the only timeline that we need to key in on," Sheriff Henry Trochesset said Monday evening, offering new details on how police managed to stop the gunman in Friday's deadly school shooting in Santa Fe, Texas.
"The heroes from that [Independent School District] engaged this individual in approximately four minutes and stayed engaged with him, keeping him contained and engaged," Trochesset said, "so the other heroes -- that continued to arrive -- could evacuate the teachers, administrators, and the students from this school."
Speaking at a press conference, Trochesset revealed that his children and grandchildren are students at Santa Fe High School and his wife attended the school.
The sheriff said the deadly shooting ended with the suspect being trapped in a room, with police in a hallway. By the end, about 200 law enforcement officers descended on the scene to help school district officers apprehend the suspect, Trochesset said, adding that the entire ordeal lasted about 25 minutes.