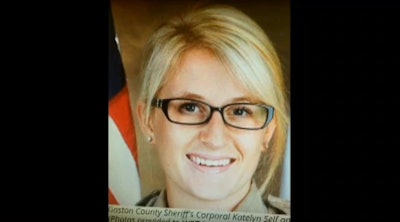 VIDEO: Deputy Killed When Her Father Intentionally Plowed Car into Restaurant, Police Say
A man is being accused of intentionally plowing his car into a Bessemer City, NC, restaurant to kill his daughter and daughter in-law Sunday afternoon. The daughter was a Gaston County Sheriff's corporal. His son, a Gaston County police officer, was injured.
He had been eating appetizers with them when he got up, stepped outside, then returned to the table minutes later behind the wheel of his Jeep, reported the Washington Post. Patrons told the Post the aftermath scene included seeing people pinned beneath the wreckage at the heart of the restaurant. One of the victims died in a restaurant manager's arms, the Washington Post reported.
He specifically targeted the spot in the restaurant where his family was seated for an after church meal, reported the Gaston Gazette.
WBTV reported Roger Self made the reservation with the restaurant, and asked for that specific table. He then left the table, complaining of having a headache, the station reported.
The dead included Corporal Katelyn Tyler Self and Amanda Self, an emergency room nurse married to Roger Self's son, Josh. Josh Self, a Gastonia police officer, was injured and remained in critical but stable condition Monday.
Roger Self's wife, Diana, was also among the injured and she remained in critical but stable condition Monday, the Charlotte Observer reports.
Roger Self reportedly had been battling mental illness for some time.