The head coach of the Ohio State football program, Urban Meyer, visited injured Franklin County (OH) Sheriff's Deputy Jacob Heaberlin in the hospital Wednesday. Deputy Heaberlin was shot in the line of duty Saturday.
Meyer is a big supporter of police officers and the military and this is just another example of his support, reports 247sports.com.
The Franklin County Sheriff's Office tweeted about the visit: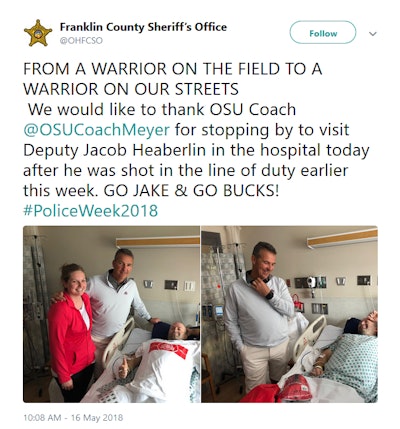 According to a report from The Columbus Dispatch, Heaberlin was shot below his protective vest in his lower abdomen during a traffic stop after he attempted to pull over a vehicle for erratic driving on Saturday evening. Heaberlin responded to the 911 call of the truck, driven by 55-year-old Darrell Bruffy, running red lights, weaving, speeding, and hitting things. Bruffy's truck fishtailed and crashed into a pole and that's when Heaberlin got out of his car with his gun drawn and the shootout occurred.
Bruffy was fatally shot during the shootout. He had outstanding arrest warrants for domestic violence, assault, criminal trespassing, and violations of a protection order.