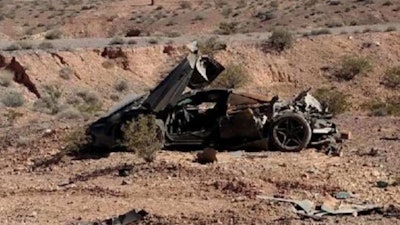 Police say seatbelts saved the lives of two people who crashed their $300,000 supercar in the Nevada desert, but the vehicle's engineers deserve a fair share of the credit.
The Nevada Highway Patrol found the totaled McLaren 720 about 70 yards off a road near Lake Mead last week, with damage suggesting that it had rolled at least once as it just missed falling down a ravine, Fox News reports.
The 710 horsepower coupe is one of the quickest cars in the world, and has a top speed of 212 mph. It features a carbon fiber passenger cell, similar to a racecar's, that's designed to be both lightweight and extremely strong. Troopers believe that design saved the people who walked away from the wrecked McLaren they found.
The car was apparently taking part in a cross-country exotic car rally.