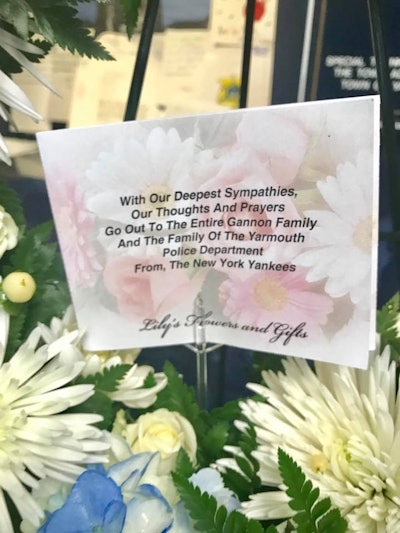 The Police Department in Yarmouth, Mass., was mourning the death of one of its officers, Sean Gannon, last month when a bouquet of flowers arrived at the station bearing a card with five unexpected words: "From the New York Yankees."
Officer Gannon was shot and killed while serving a warrant in neighboring Marstons Mills, a tiny village in Cape Cod, where the Yankees are considered bitter rivals.
"I'm a die-hard Red Sox fan, and my first reaction was, 'Call the delivery guy and tell him to take them back,'" said Frank Frederickson, the Yarmouth police chief. "I say that in jest, of course. That is a class move, and it meant a lot to us. All the guys came down and wanted to see it. They were like, 'Are you kidding me?'"
Reactions were similar at the sheriff's department in Lebanon, Ind., last month and at a home in Fargo, N.D., in 2016, and dozens of other locations from Maine to Alaska. For the past three years, the Yankees have been quietly sending flowers to the families and police departments of slain law enforcement officers across the country.
In most of the places, the immediate question was similar: Why would the Yankees send flowers to us?
The gesture grew from something the Yankees have done for decades — sending flowers to the funerals of officers killed in the New York metropolitan area. But one day in 2015, Sonny Hight, a former detective in the New York Police Department who is a Yankees vice president and the chief security officer, heard about a police officer killed in another state. Mr. Hight said he did not now remember the episode, the city or the date, only that he was moved to act.
"I just thought, hey, this guy deserves to be recognized for his sacrifice," Mr. Hight told the New York Times. "We should at least send some flowers acknowledging it."