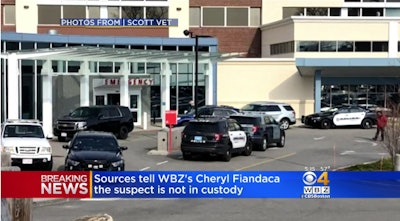 VIDEO: Massachusetts Officer Shot in Head Serving Search Warrant
A Yarmouth, MA, police officer suffered serious injuries after being shot while serving a search warrant at a Barnstable home.
The K-9 handler was shot on Blueberry Lane in the Marstons Mills village of Barnstable, and was taken away in an ambulance.
Sources told WBZ-TV that the officer was shot in the head and suffered very serious injuries.
The suspect, who has a lengthy criminal record and is being described as very dangerous, is now in custody after a lengthy standoff with police while remaining barricaded inside the home.