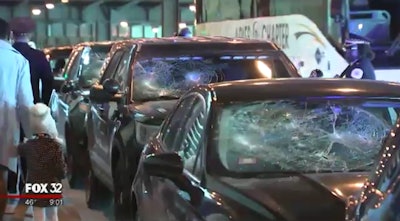 VIDEO: 7 Chicago PD Vehicles Vandalized Outside Recognition Ceremony
Seven Chicago Police vehicles were vandalized near the Hyatt Regency hotel in the Loop Friday afternoon while a police recognition ceremony was going on inside, reports Fox 32 Chicago.
A man smashed the windshields on seven police cars that were parked and unattended near the hotel, according to Chicago Police.
The suspect was taken to Northwestern Memorial Hospital for a mental health evaluation, police said.