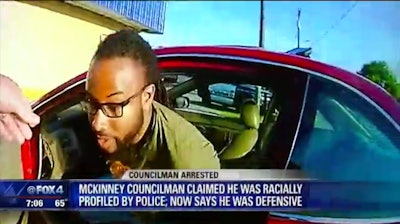 VIDEO: Councilman Backs Off Claims of Racial Profiling by Texas PD
The McKinney (TX) Police Department released body camera footage of the arrest of a city councilman following a traffic stop. Before seeing the video, Councilman La'Shadion Shemwell had claimed he was racially profiled. But then he saw the footage.
Shemwell said he does not believe he was speeding 20 miles over the limit on Tuesday when he was pulled over. He was arrested for refusing to sign the ticket.
Late Wednesday night, the McKinney Police Department released body cam video of the councilman's arrest.
In the video, Shemwell can be heard asking the officer if he knows who he is and said he'll call the chief. The officer said he's going to cite him for both speeding and failing to change the address on his license within 30 days. When Shemwell refuses to sign the citation, the police officer arrests him.
FOX 4 contacted Shemwell again for comment after the video was released but did not hear back. He admitted to the Dallas Morning News that he was antagonistic with the officer and is not sure it was really a case of racial profiling.