Elbeco Inc. received national recognition for its product innovation at the 2018 National Association of Uniform Manufacturers & Distributors (NAUMD) Annual Expo, held in St. Louis, MO, on March 27th. The Company's new Reflex Uniform Series was honored with the NAUMD's Best Public Safety Product Innovation Award.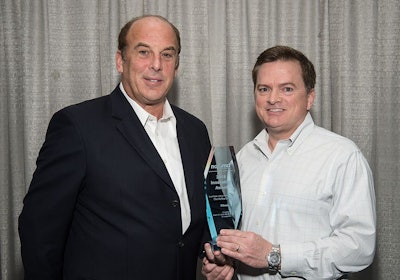 The Reflex Uniform Series is redefining the Daily Duty Uniform by combining a Class A appearance with Class B functionality, performance, and comfort, according to the company. Said to be the "most comfortable uniform" in the industry, Reflex is engineered with a unique fabric combination that offers a permanent, durable, stretch fabric that is lightweight. The material's additional flex allows for increased range of motion with 100% recovery for a garment that does not stretch out or lose form.
Reflex is also enhanced with innovative technologies such as Nano Fluid Repellency and UV Protection. The UV Protection enables public safety professionals to remain cool, dry, and comfortable while protecting against the prolonged exposure to harmful rays of the sun. The Nano Fluid Repellency permanently enhances the fibers at the molecular level, so fluids will bead up and roll off the fabric, keeping the wearer dry and comfortable while the fabric maintains its natural breathability.
Shirt features include:
Chest pockets with dual access top and side utility pockets
Concealed zipper front closure system
Flex underarm mesh vents that provide body heat ventilation and increased range of motion
Dual communication wire access openings to keep wires obscure
Pant features include:
Available in Hidden Cargo and Cargo Pocket Styles
Covert flex waistband providing a three-inch stretch
Concealed security or "evidence" pocket
Triple stitch crotch seam to prevent blow out
Cargo style offers magnet closures on flaps for stealth access and notched front pocket with reinforcement for a clip knife
The Hidden Cargo style offers secure multiple storage options
For more information, visit the Elbeco Website.