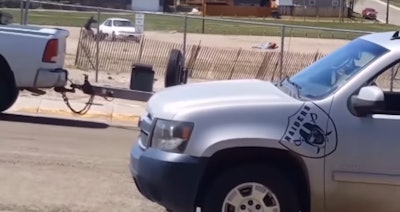 VIDEO: Wyoming Agency Releases Footage of Shootout That Critically Wounded Officer
The Casper (WY) Police Department on Wednesday released video of officers Randi Garrett and Jacob Carlson engaging in a Sunday shootout in east Casper that left a man dead and Carlson severely wounded.
Garrett, a two-year veteran of the force, was not injured in the gunfight. Her coworker, Carlson, was struck by at least five bullets and remains at Wyoming Medical Center after suffering major injuries. The shooter, 38-year-old David P. Wolosin of Casper, died at the scene.
Garrett provided critical first aid to Carlson following the gunfight, Police Chief Keith McPheeters told reporters at a Wednesday news conference. Carlson remained in critical condition Wednesday afternoon as he underwent a six-hour surgery. The surgery was proceeding better than expected, the chief said.
Reached through her attorney, Garrett said she was not ready to speak about the shootout.
"I want to thank the community for the outpouring of support," Garrett told the Casper Star-Tribune. "Please focus your prayers on my friend and fellow officer fighting for his life."
McPheeters released video footage captured by a camera system mounted on the dash of Garrett's vehicle. No audio was captured by the system.