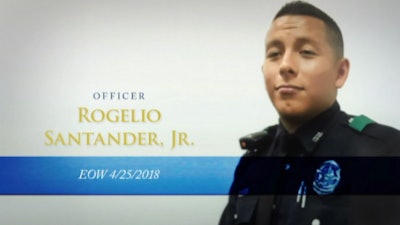 VIDEO: Thousands Attend Slain Dallas Officer's Funeral
Crowds gathered Tuesday morning at Lake Pointe Church in Rockwall to mourn the loss of Dallas Police Officer Rogelio Santander, slain a week ago by a gunman being detained at a Home Depot in northeast Dallas.
For at least seven miles along 1-30 eastbound, billboards were lit with photos in Santander's memory. Many local residents lined the service road leading up to the church in Rockwall waving American flags or draping them over their shoulders, reports the Star-Telegram.
Santander was 27 and had served in the northeast division of the Dallas Police Department for three years. Dallas Police Chief Renee Hall said at a vigil Thursday that he had wanted to be a police officer since sixth grade at Edward Tiche Elementary School in Dallas.
Santander's body was moved from Cathedral Guadalupe to Lake Pointe Church early Tuesday after remaining at the cathedral overnight under an Honor Guard. A private Mass was conducted at the cathedral Monday afternoon.
A crowd estimated at 3,000 to 4,000 turned out for the funeral, including police officers from Chicago, Suffolk, New York City, Aurora, Colo., representing the Brotherhood of the Fallen organization, and officers from across Texas.