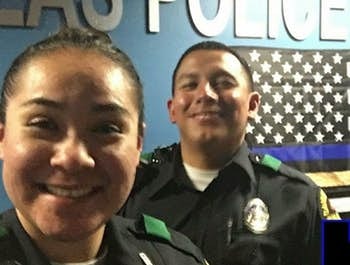 Dallas police Officers Rogelio Santander and Crystal Almeida were just rookies, but even veteran cops were envious of their chemistry.
He was the one who cracked the jokes. She was the shy one.
The best friends were inseparable as they patrolled the streets of northeast Dallas in one squad car. Santander did most of the driving. Almeida took the lead on writing reports, the Dallas Morning News reports.
"It was a car full of laughs every day," said Senior Cpl. John Arnold, their class adviser and fellow northeast patrol division officer.
The partnership ended Tuesday afternoon, when police say a shoplifting suspect with no history of violence shot them and a Home Depot loss-prevention officer as they tried to arrest him.