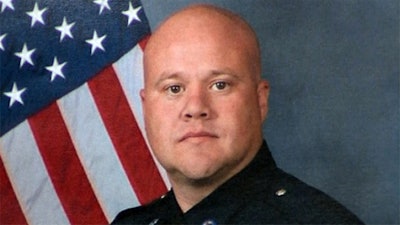 A Collin County, TX, grand jury has indicted Brandon McCall on two counts of capital murder for killing his roommate and a Richardson police officer in February. Prosecutors will seek the death penalty.
Officer David Sherrard was shot after responding to a call about a disturbance at the Breckinridge Point Apartments, near Renner Road and North Star Road in early February, CBS DFW reports.
Back in February, Richardson Police Chief Jimmy Spivey said when officers arrived they found the injured civilian and began rendering aid. "In the course of their investigation they were led to an apartment where they made an entry and immediately encountered gunfire."
The Chief said Officer Sherrard fell back out of the apartment and was immediately helped by other officers.
After allegedly shooting Officer Sherrard, accused gunman Brandon De McCall barricaded himself inside one of the apartments for more than four hours. The standoff kept residents sheltered in their apartments as McCall randomly firing shots throughout the evening. Ultimately McCall surrendered after officers pumped tear gas into the unit.