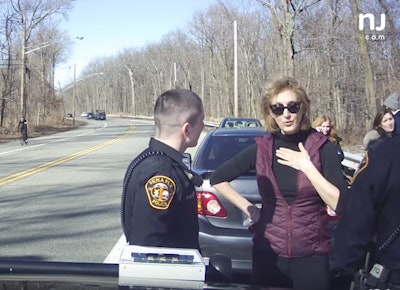 VIDEO: Port Authority Commissioner Resigns After Confrontation with New Jersey Officers
She dropped the F-bomb. She belittled police officers. And she flashed her Port Authority commissioner's badge.
A police video of a seemingly routine traffic stop in the Bergen County, NJ, community of Tenafly generated outrage this week by the actions of Caren Z. Turner, who harangued police who had pulled over a car carrying her daughter.
Turner's tirade against the patrol officers included profanity, insults and the repeated reference of her position as a Port Authority commissioner, all captured in a video. In the end, however, all she accomplished was her forced resignation from the Port Authority and no small amount of public shaming, NJ.com reports.
A Democrat who raised money for Hillary Clinton, Turner was appointed to the Port Authority last year by former Gov. Chris Christie, as part of a pair of appointments that included former GOP state Sen. Kevin O'Toole. Turner was the pick of Senate Majority Leader Loretta Weinberg (D-37), who was pushing for more women on the board.
Tenafly police stopped the car, a Toyota with Nevada plates, because it had front side tinted windows, which are not legal in New Jersey. The car also had a license plate frame that partly covered the name of Nevada. Once they pulled the car over, the officers learned that the car had an expired registration and the driver did not have an insurance card. Turner's daughter was a passenger in the rear seat.