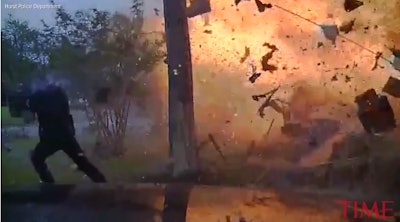 VIDEO: Texas Officer Nearly Caught in Fiery House Explosion
A police officer who drove out to investigate a vehicle collision in Hurst, TX, narrowly avoided being seriously injured in a fiery house explosion at the scene of the crash.
In new dashcam footage from the April 7 incident, Officer Travis Hiser can be seen approaching the home in question when a sudden blast of flames erupts out of it toward him. The house had been hit by a car that reportedly severed its primary gas line, allowing gas to build up inside the residence.
The driver was arrested at the scene, reports Time.
Hiser and the other officer on the scene, Corporal Ryan Tooker, were treated for minor injuries at a local hospital. The three people inside the house were injured but are expected to recover.