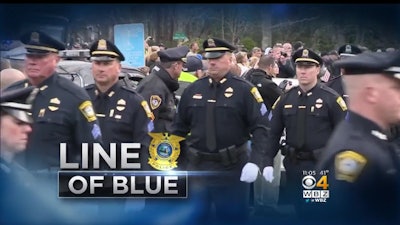 VIDEO: Thousands Mourn Slain Massachusetts Officer
A wake for slain Yarmouth, MA, K-9 handler Officer Sean Gannon was held Tuesday evening at St. Pius X Roman Catholic church in Yarmouth. A funeral Mass was held Wednesday morning at the church, followed by a private burial.
Members of the community, wearing blue, lined Route 28 Tuesday afternoon as police escorted Gannon from the funeral home in Hyannis to the Yarmouth church. Thousands of officers from around the country were there for a walk-by and a moment of silence, reports WBZ-TV.
The 32-year-old Gannon was shot and killed last Thursday while he and other officers were serving an arrest warrant at a home in Barnstable, MA.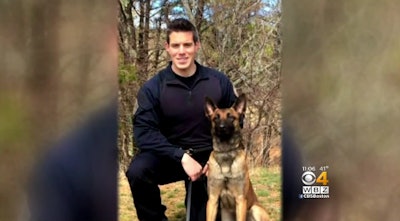 Thomas M. Latanowich, 29, has been charged with murder in the shooting. He pleaded not guilty and is being held without bail, reports the Boston Globe.
Gannon is survived by his wife Dara. He was an 8-year veteran of the department and the department's first full-time drug detection K-9 patrol officer. He was remembered in his obituary for his "high moral integrity, infectious humor, and collaborative work with colleagues," reports WBZ-TV.
Gannon was posthumously promoted to the rank of sergeant by his department Wednesday, reports the Boston Globe.