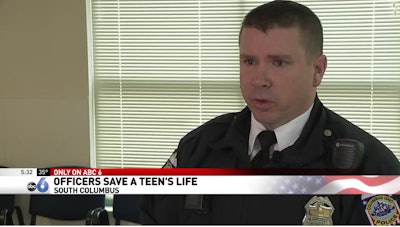 VIDEO: Ohio Officers Save Teen from Suicide Attempt
A dramatic and emotional body camera video released Monday shows four Columbus Police officers racing to save a 17-year-old girl, from an apparent suicidal jump off a bridge.
A month later, those officers spoke exclusively with ABC 6/FOX 28 on Monday.
The video, captured the night of March 20th, shows the unidentified girl dangling her hands and feet from the edge of the Greenlawn Avenue bridge, hanging over the Scioto River. As officers sprint towards her, the girl sobs and tells them "no."
Two officers, Kenneth Kropp and Anthony Sebastiano, reached the girl first and secured her arms. Two more officers raced up and helped to pull the teen back over the railing to safety.
"When I'm heading to a run, regardless of what it is, I always think 'that's my brother, my sister, my father' — it's somebody," says Officer Kropp. "And absolutely I imagined, 'what if it was my child?'"
The National Suicide Prevention Hotline can be reached at 1-800-273-8255.