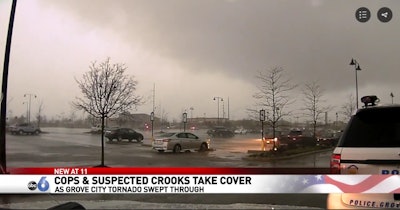 VIDEO: Ohio Officers, Robbery Suspects Seek Cover from Tornado Together
When a tornado struck Grove City, OH, last week, police officers and robbery suspects sought cover together in a nearby store.
Officer Joe Hughes of the Grove City Police said he was patrolling near a shopping center when he spotted something that didn't look right. It turns out there was a robbery in progress in the parking lot. Hughes said a teen had posted some expensive tennis shoes in a Snapchat for sale. But when the buyers came to pick them up, they apparently had no plans to pay for the shoes.
Officers rounded up four juveniles, but in-car video shows as the officers were processing the teens, and the victim and a friend were writing out statements in their car, the weather turned ugly. Police said there were shopping carts blowing around, patio furniture scattered from a restaurant, benches, even a lamp broke off and fell on a cruiser. Hail pelted the lot and the winds picked up. The officers knew they had to get the teens to safety inside the nearby Hobby Lobby store, ABC6 reports.
"We just kind of sat all the suspects down on the floor together and remained there until things calmed down and parents started showing up. Normally, you are not all just sitting there together hanging out.