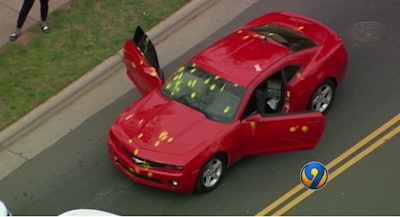 VIDEO: Paintball Shootout Between Vehicles Leads to Pursuit in NC
Four people were detained Wednesday afternoon after a paintball shootout between two cars that were speeding through the streets of Charlotte, NC.
Police had two vehicles pulled over, reports WSOC. A red Chevrolet Camaro was covered with yellow dots of paint on one road, while police looked through another car that was dotted with blue paint around the corner.
Police said they pursued one of those cars until it stopped. They have not said what charges were filed.