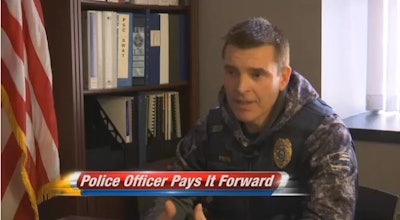 VIDEO: Montana Officer Pays Good Deed Forward
It was a normal patrol day for Billings, MT, Officer Seth Foster until he stopped to join a young boy playing football by himself.
"I played catch with him for a while and then his mom came out and basically we talked for a little bit and I just said, 'You should buy this little guy some gloves for football because he's a heck of a catch and can throw the ball really good and has a good arm,' and she said, 'Yeah, maybe next Christmas,'" said Officer Foster.
But Officer Foster knew Christmas was too long of a wait. So he stopped at Universal Athletics and picked up a pair of gloves and dropped them off at Broadwater Elementary where the boy went to school, reports KULR.
Officer Foster says it's all about paying it forward.