Officer Emily Werfel, 27, is now one of just nine female members of the NYPD's elite Emergency Service Unit — and was the only woman in a graduating class of 53 on Wednesday.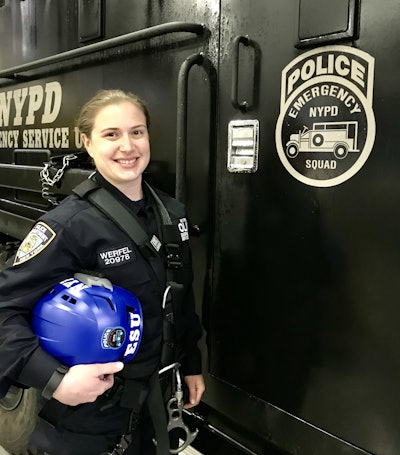 "It's empowering," Werfel told the New York Post. "I hope that I set an example for other women to join," Werfel said. "I hope I'm inspiration to other women."
The nine female ESU members, including Werfel, are part of a unit of more than 100 members, a department spokesperson said. The ESU is the NYPD's version of a SWAT team, dealing with high-risk situations such as hostage-takings, dangerous rescues and active shooters.
Werfel, who studied criminal justice at Suffolk Community College, worked as an EMT for Northwell Health in Great Neck, LI, and then as an NYPD officer for six years in Queens before enrolling to join ESU.
"It's an incredible feeling," she said at the graduation ceremony at Floyd Bennett Field.
In an article on the NYPD's website NYPDnews.com, Werfel said, "I had one goal—not to just to be an NYPD cop but be part of ESU. The training was awesome and intense. I am proud to be here graduating with everyone else and having my family be part of it."