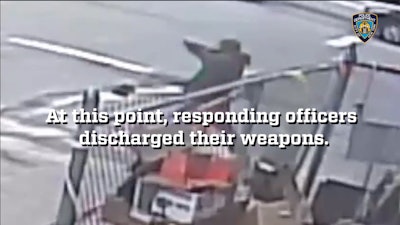 VIDEO: NYPD Releases Footage of Fatal Police Shooting of Man Holding Pipe Like a Gun
In a somewhat unusual move Thursday, the New York City Police Department released surveillance video and partial 911 calls related to the fatal police shooting of a Brooklyn man.
Saheed Vassell, 34, was shot by police after they received multiple reports of a man pointing what appeared to be a gun at people in the Crown Heights neighborhood around 4 p.m Wednesday, CBS News reports.
"There is a guy in a brown jacket walking around pointing -- I don't know (to someone else) what is he pointing in people's faces? They're saying it's a gun, it's silver," reported one caller.
Video surveillance appears to show Vassell doing what the callers describe: walking up to people on the sidewalk and pointing a metal object that looks like a gun but turned out to be a pipe at people's heads.
Near the end of the video, Vassell can be seen approaching an intersection and pointing the object in what looks like a two-handed shooting stance. The video freezes and text on the screen says, "At this point, responding officers discharged their weapons."
Vassell's family said the man was bipolar.