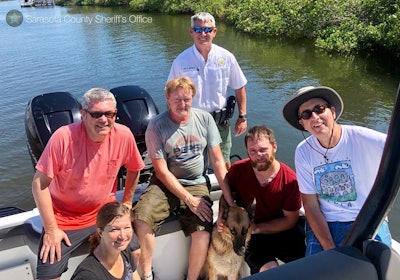 A vigilant kayaker and a Sarasota County (FL) Sheriff's Office Marine Patrol deputy helped reunite a missing German shepherd with its family.
Bob Welter said the 5-year-old dog named Rex was a few pounds lighter when he arrived home Monday after having been missing for eight days and smelled like "sea shells and clam," but the Welter family was happy to have him back.
Welter left the dog with his aunt March 21, while the family attended a baby shower in Illinois. But several days later, the dog vanished from his aunt's home. They surmise the 105-pound canine missed his family and escaped through the lanai screen, reports the Herald-Tribune.
Rex was spotted swimming in the Intracoastal Waterway on Monday morning by kayaker Kara Mullen, who unsuccessfully tried to rescue the lost dog.
Meantime, the Sheriff's Office dispatched Marine Deputy Mike Watson and Air-1 helicopter. Watson met Welter and his son Kyle on the dock and took them to a mangrove island. They retrieved Rex within an hour with the help of a few good Samaritans.
"I don't know who to praise," Welter said. "The word hero to me is just a word, but what he (Watson) did was way beyond what he should have done."