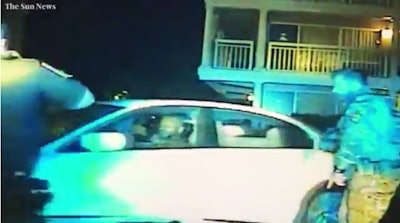 VIDEO: Dash Camera Footage Shows Fatal OIS at South Carolina Motel
As officers screamed at Jarvis Hayes to put his car in park inside a Myrtle Beach motel parking lot, he turns the car toward them and accelerates.
The officers opened fire killing Hayes.
As the shots rang out, an officer jumped on the hood of the police cruiser, fleeing the Jaguar that appeared to ram a police car.
Those moments were caught on dashboard camera that showed the Labor Day weekend shooting. The video was one of several released by the South Carolina Law Enforcement Division (SLED) as the result of a Freedom of Information Act request, the Myrtle Beach Sun-News reports.
Last month, 15th Judicial Solicitor Jimmy Richardson issued a letter and found no criminal charges against Myrtle Beach Police Officers Drew Fox and Justin Lieberth. Richardson's decision came on the heels of a SLED report.
Officers were called to the scene on reports of a man in a Jaguar driving recklessly. Hayes' blood alcohol content was .237, nearly three times the legal driving limit of .08, according to a toxicology report.