5.11 Tactical Defender-Flex Jean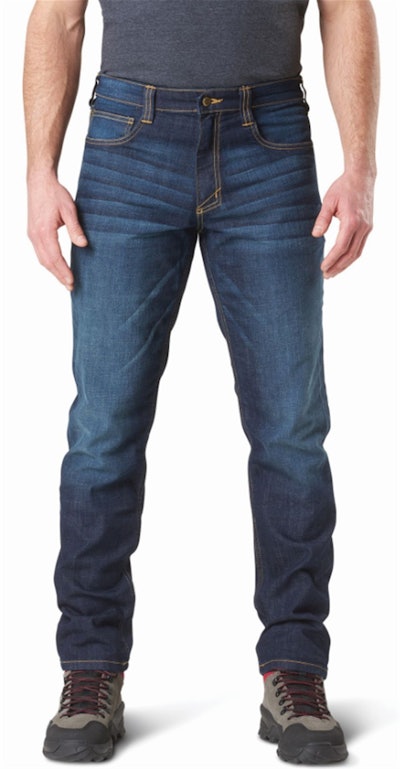 If you're anything like me you've got a ton of 5.11 Tactical gear in your closet. They make quality gear at affordable prices and have been outfitting emergency personnel for years. It wasn't until recently that they really started to capitalize on the off-duty or undercover market. One of their offerings that fit this bill is the Defender-Flex Jean(s). Yes, I used the words jeans and 5.11 in the same sentence and yes, 5.11 got them right.
The Defender-Flex jeans are designed from the ground up to be anything but your stereotypical tactical pants. Made from durable 10-ounce mechanical stretch denim, the Defender-Flex are as comfortable as they are rugged and feature the classic 5-pocket styling that you'd find on your favorite pair of Levi's. Throw in a couple hidden hip pockets for things like additional magazines or a cell phone and they bridge the gap between discreet and utilitarian.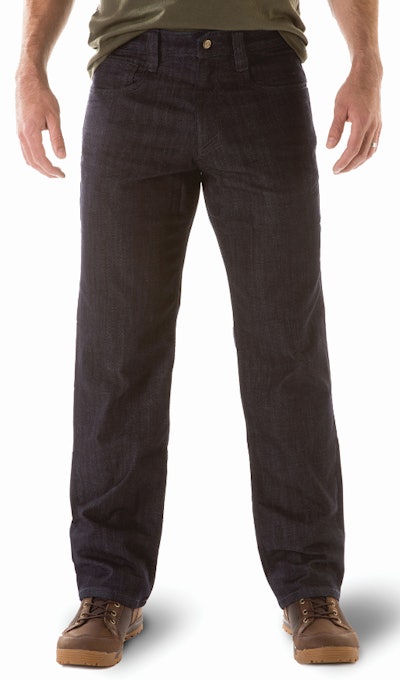 Available in both straight leg and slim fit, regular and dark wash indigo blue, the Defender-Flex jeans come in a variety of sizes to fit just about everyone. They're even dyed to give them the appearance of a worn-in pair of jeans. My pair fit true to size and were incredibly comfortable right off the rack. The mechanical stretch fabric allows for incredible freedom of movement and eliminates binding when kneeling and crouching. The pockets are a bit shallow but perfectly functional and the YKK zipper is robust. All of the stitching is reinforced to greatly minimize rips and tears.
After a few weeks of wear I have to say these jeans only get more comfortable with age. My only complaint about the Defender-Flex was the residual dye that rubbed off on my hands and seats of my truck. After a couple of washes, however, that problem was solved. I'd recommend you run yours through the wash a few times before you put them on. In the grand scheme of things that's small potatoes.
The Defender-Flex Jean is available directly through 5.11 for just under $70, which puts them right on par with any good pair of jeans. If you're looking for something a bit more comfortable and functional than traditional jeans I'd recommend you pick up a pair. Take a look at www.511tactical.com.
A.J. George is a sergeant with the Scottsdale (AZ) Police Department assigned to the Technical Operations Unit, Special Investigations Section. He has more than a decade of law enforcement experience in patrol, field training, and traffic enforcement.