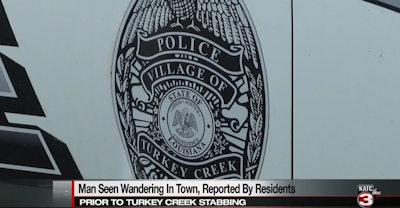 VIDEO: Louisiana Chief Stabbed in Face, Critically Injured
Evangeline Parish Sheriff's deputies have arrested a man in connection with the Tuesday night stabbing of a Louisiana police chief who was critically injured.
Zackery Shane Deville, 24, has been booked with attempted first-degree murder and criminal trespassing. He's currently being held without bond, reports KATC.
Chief Robert Glen Leggett, Turkey Creek's chief of police, was "critically injured" in the attack and was transported to Rapides Medical Center, a release from the sheriff states. Leggett underwent emergency surgery and now is in the ICU of RMC, the release states.
Deputies say that Leggett was trying to arrest Deville for trespassing, but Deville fought with him, brandished a knife, and then stabbed Leggett across the left cheek.
Cloud says the town will hire another police officer while the chief is recovering. In the meantime, the Evangeline Parish Sheriff's Office will help patrol the town.