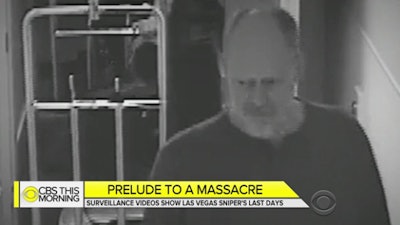 VIDEO: Las Vegas Gunman Showed "True Mark of a Sociopath," Says Retired Officer
Newly released surveillance video shows Las Vegas gunman Stephen Paddock in the days before he opened fire from his Mandalay Bay hotel room, killing 58 people. (screenshot: CBS This Morning)
" />
Newly released surveillance video shows Las Vegas gunman Stephen Paddock in the days before he opened fire from his Mandalay Bay hotel room, killing 58 people. MGM Resorts said it released the video because it wanted to provide greater context around Paddock's actions leading up to the shooting. The hotel said the images show that Paddock gave no outward indications of the massacre he was planning to carry out, reports CBS News.
In the series of security videos, Paddock appears like any other guest. He checks into his suite on the 32nd floor, plays video poker and buys snacks at the gift shop – all the while interacting with hotel staff.
"He's so calm," CBS News correspondent Carter Evans noted, watching the videos.
"And that is the true mark of a sociopath," said Randy Sutton, a retired lieutenant with the Las Vegas Metropolitan Police Department.
"He's going about his business, he's tipping the guys," Sutton said. "A guy who can order lunch knowing that he's going to kill people… that's not normal."