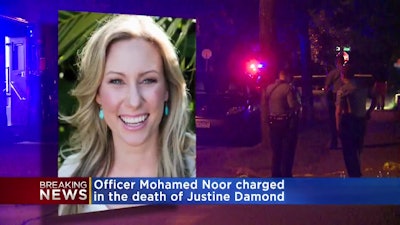 VIDEO: Minneapolis Officer Faces Murder Charge in Justine Damond Shooting
Minneapolis police officer Mohamed Noor has been charged with third-degree murder and second-degree manslaughter in the shooting death of Justine Damond.
Noor turned himself into the Hennepin County Jail Tuesday. He is being held on $500,000 bond, WCCO TV reports.
Damond, 40, was fatally shot on July 15, 2017 after calling 911 to report a possible sexual assault in the alley behind her south Minneapolis home.
Noor shot the Australian native from inside a squad car shortly after he and his partner, Officer Matthew Harrity, arrived on the scene. Harrity was driving.
According to the criminal complaint, moments before the shooting, Harrity heard a voice and saw an unarmed person outside the squad car. Harrity said he was startled and said "oh, s***" or "oh, Jesus". He said that he feared for his life, pulled out his gun and held it to his ribcage while pointing it downward.
That's when Noor reportedly fired the shot from the passenger seat out of the window, striking Damond in the left side of the abdomen. She died at the scene.