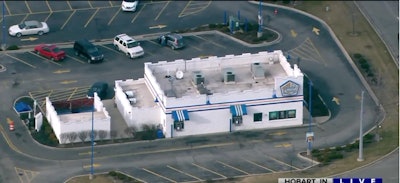 Police found a one-pot methamphetamine lab inside a White Castle restaurant Friday in Hobart, Ind.
Police say they were called to the restaurant to check out a suspicious person and found a man with a "suspected one pot" meth lab, the department said in a statement. One man was taken into custody.
Four officers were treated for exposure to chemicals. Indiana State Police were called to safely contain the lab, WGN reports.
A one-pot meth lab is a bottle filled with chemicals. The lab is dangerous because there is often only a thin layer of plastic covering the chemicals, police have said.