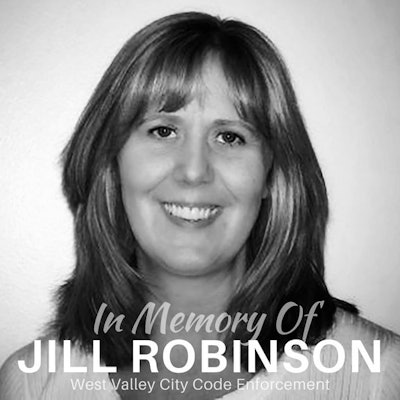 A West Valley City, UT, code-enforcement officer was shot and killed on Thursday, and a house fire near where the woman's body was found is being investigated as arson, according to the Salt Lake Tribune.
"We are shocked and heartbroken by the death of Code Enforcement Officer Jill Robinson," the city said in a statement on Twitter. "Jill worked for WVC for more than ten years, and was a trusted colleague, a loving aunt, a proud mother, and a doting grandmother."
Two West Valley City police officers arrived at the scene shortly after the shooting, reportedly ordering the suspect to get on the ground. He complied and was taken into custody without incident.
West Valley City police said 64-year-old Kevin Wayne Billings was booked into jail for investigation of aggravated arson and aggravated murder, which are first-degree felonies, and for arson, which is a second-degree felony.
We are shocked and heartbroken by the death of Code Enforcement Officer Jill Robinson. Jill worked for WVC for more than ten years, and was a trusted colleague, a loving aunt, a proud mother, and a doting grandmother. pic.twitter.com/S1etPYXccy

— West Valley City (@WVCUT) August 9, 2018