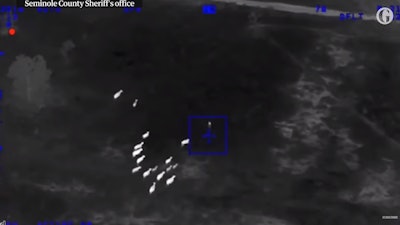 VIDEO: Florida Police Get "Assist" from Cows in Foot Pursuit of Fleeing Felon
Officers with the Sanford (FL) Police Department in pursuit of a felony suspect got some help from a herd of cows in the apprehension of the fleeing woman. The entire incident was video recorded by a Seminole County Sheriff's Office helicopter team.
Police were in pursuit of Jennifer Anne Kaufman, who was riding in a white Subaru with a reportedly stolen tag. Kaufman, 46, was in the car with two others: Erin Leigh Thomas, 38, and Jamie Michael Young, 46, according to the Orlando Sentinel.
Following a vehicle pursuit, Kaufman fled on foot into a pasture. The cows occupying that area quickly gave chase.
"About 16 cows chased Kaufman southeast through the pasture, eventually cornering her at a fence where Sanford police officers were waiting to arrest her," the Sentinel report said.
The police report said that the vehicle Kaufman was in contained 1.3 grams of cocaine, a pipe, two spoons, and two needles.