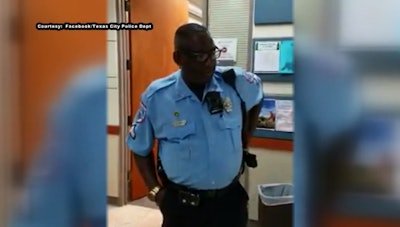 VIDEO: Texas Officer Who Worked 32 Years Without a Sick Day Retires
Senior Patrol Officer Ronald "Pookie" Hall of the Texas City (TX) Police Department — who never took a sick day in his 32 years on the job — was celebrated by colleagues on his final day on duty.
"You are the longest-serving African American officer in the police department's history," dispatcher Debralee Fleming said during the radio tribute.
The final radio call was captured on camera and posted to the police department's Facebook page.
Hall returned the call, "8125, clear" as he tapped his chest with some emotion as officers applauded.