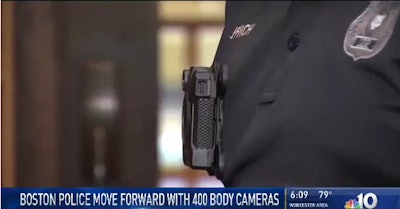 More Boston police officers will wear body cameras after the city's mayor announced he is expanding the program following the release of a report that found a pilot program generated "meaningful benefits" between encounters of officers and residents, reports NBC Boston.
Mayor Marty Walsh said Boston Police Department's pilot body camera program will be expanded through a "phased-in approach" and that city officials are working with police unions on the matter after a Northeastern University report found that officers who wore body cameras received fewer complaints and had fewer use-of-force reports.
Outgoing Boston Police Commissioner William Evans said the study shows "there is positive impact in the use of body cameras."
A $2 million investment in the city's 2018 budget based on preliminary results from when the pilot program ended in September 2017 using Axon cameras will cover start-up costs, including the purchase of up to 400 cameras, according to city officials. Program costs for the first three years are estimated at $8.5 million.