A Virginia State Police K-9 was killed after a police pursuit ended in gunfire in Sussex County, VA, Wednesday morning.
Virginia State Police Public Relations Director Corinne N. Geller said a trooper in Sussex County identified a vehicle that had been reported stolen out of Connecticut, but the driver wouldn't stop when the trooper tried to pull him over, reports WTVR.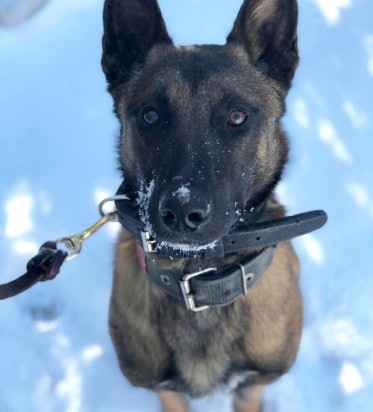 As the pursuit began, officials said the suspect began firing at the trooper's vehicle. Officials said that as the car left I-95, troopers positioned themselves to stop the vehicle.
Geller said the suspect continued firing at the state police vehicles and "one of the suspect's bullets pierced a K9 trooper's back passenger window and struck a state police canine riding in the back seat compartment."
"The state police narcotics detection canine, Vader, did not survive his injuries," Geller said. K-9 Vader was two years old.
Officials said once the vehicle stopped, troopers engaged the suspect and shots were fired, and the male suspect died at the scene.
Geller said no troopers were injured.
The suspect has been identified as Tramaine Marquese Poole, 41, New Haven Police Chief Anthony Campbell told the New Haven Register. Campbell says Poole was wanted for the murder of 28-year-old Tyekqua Nesbitt in Connecticut and another shooting.