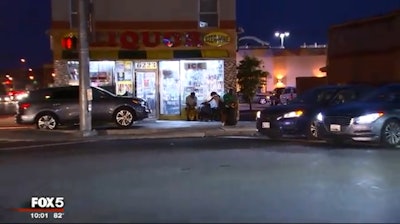 VIDEO: Maryland Officer Fatally Shoots Murder Suspect
A suspect who had reportedly just shot and killed a victim at a Prince George's County, MD, liquor store was fatally shot by an officer who happened to be in his police vehicle right outside the scene of the crime at the time.
The Prince George's County Police Department said the suspect shot and killed a victim inside the store shortly after 1300 hours on Wednesday.
"Investigators said as the suspect fled the store, he was confronted by an on-duty officer in an unmarked vehicle at an intersection nearby the liquor store when the shooting happened," according to Fox5-TV.
"This individual is running at the police officer armed with a handgun," said Prince George's County Police Chief Hank Stawinski. "He shouts commands requesting that individual stop. That individual pays no heed to those commands and the officer is then in a position where he must discharge his weapon several times. That suspect is shot and falls to the ground."
Detectives are trying to determine a motive for the shooting inside the liquor store.