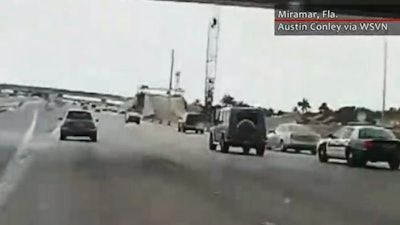 VIDEO: Bizarre Road Rage Incident Between Police Cruiser and Car
A video has surfaced of a bizarre road range incident between a Nissan sedan and a Miramar (FL) Police Department vehicle on a South Florida highway, according to WSVN-TV.
Police say that the incident was the result of a domestic dispute between Miramar police officer Ashley Abreu and the father of her children, Roberto Zaldivar, who was in the Nissan.
"There was an incident that occurred at the residence of the police officer and later on translated onto the highway," a police spokesperson told WSVN-TV. "There's a good thing that there's video — dash-cams — not only in police cruisers, but also on people that are driving in the highways because that is actually a tool for law enforcement to investigate."
Zaldivar has reportedly been arrested and charged with aggravated assault on a law enforcement officer and criminal mischief.