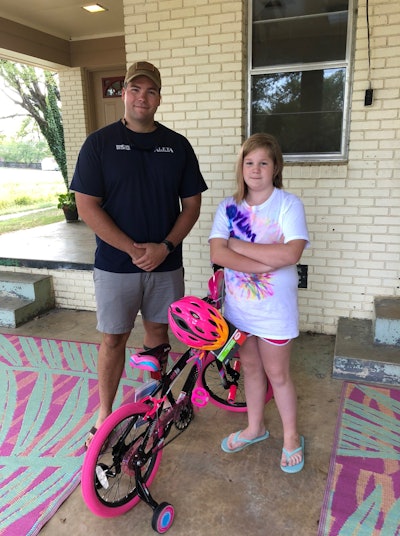 Deputy Justin Butcher of the Garland County (AR) Sheriff's Office went "above and beyond the call of duty," said Sheriff Mike McCormick in a Facebook post, when he found a way to get a replacement bike for a little girl who had hers stolen.
"Earlier in the week Deputy Butcher took a report from Carrie Carr about her daughter Dylanne's bike being stolen," Sheriff McCormick wrote. "Deputy Butcher not only took the report but took it upon himself to do something about it for Dylanne. So, with the help of representatives from the Hot Springs Village Walmart, Dominique Martineau and Grant Freeman, Deputy Butcher was able to get a bike to replace the one that had been stolen along with a helmet."
Butcher serves as the Ft. Lake School Resource Officer, so he is no stranger to how important a bike can be to a kid.
"I can't believe he cared about me and my bike when he's so busy keeping everyone else safe from the bad guys." Dylanne reportedly said.
Sheriff McCormick added, "Deputy Butcher exemplifies the kind of care and compassion for our community that our deputies have for the people of our community. He is a credit to the badge he wears."