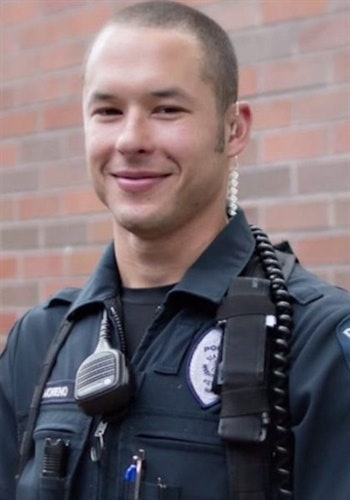 On Wednesday, 16-year-old Emiliano Garcia was charged as an adult with second-degree felony murder — accused of causing the death of Officer Diego Moreno of the Kent (WA) Police Department.
Garcia and two other teens reportedly led police on a high-speed pursuit on Sunday, after officers received reports of multiple shots being fired. Officers saw a fleeing red Dodge Dakota pickup, and gave chase.
Officer Moreno was laying spike strips to slow the fleeing pickup when he was struck and killed by a pursuing Kent police vehicle.
Garcia allegedly had been out with friends for "a night of drinking at a quinceañera to celebrate a girl's 15th birthday," according to the Seattle Times.
Moreno — an eight-year veteran of the force — is survived by his wife and two children.