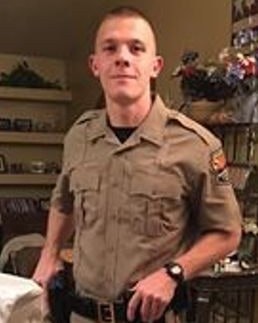 One Arizona Department of Public Safety trooper was killed and another wounded late Wednesday night on Interstate 10 outside Phoenix when a suspect reportedly took one of the officer's duty weapons and opened fire. The suspect is in custody.
Department of Public Safety Director Frank Milstead told reporters the incident began about 10:30 with reports of someone driving erratically in I-10's eastbound lanes and throwing things at cars.
The driver was on the side of the road when troopers arrived on the scene and approached. A fight began and lasted several minutes as the troopers tried to take the suspect into custody. During the struggle, one of the troopers lost his gun to the suspect, who fired at least two rounds from it, Milstead said.
Trooper Tyler Edenhofer was shot and killed. Edenhofer had just graduated from the DPS academy on May 4 and was an officer-in-training, CBS News reports.
Trooper Dalin Dorris was shot in the shoulder and taken to a local hospital. Milstead said Dorris was in "good spirits considering the circumstances."