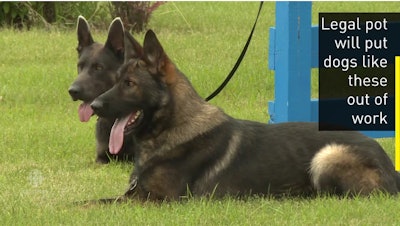 The upcoming legalization of marijuana in Canada is putting a group of police dogs out of work.
Fourteen Royal Canadian Mounted Police interdiction dogs, which are used primarily to search for drugs, are being retired or sold to other forces because their training to sniff marijuana could cause problems for Crown prosecutors once pot is no longer illegal to possess.
"Our interdiction dogs are often used to form grounds to continue searching or to arrest people," said Staff Sgt. Gary Creed, a senior trainer with the RCMP's police dog service in Innisfail, Alberta., where all of the national police force's dogs are trained. If they are trained to sniff marijuana, some of their evidence would not be admissible in court, he told the CBC.