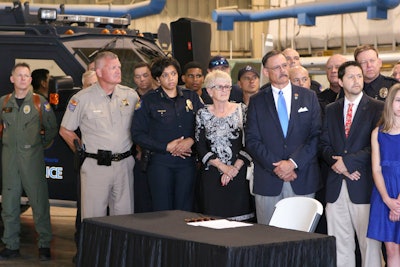 Wednesday afternoon Phoenix Police Chief Jeri Williams joined Mayor Thelda Williams, Fire Chief Kara Kalkbrenner, and others as Governor Ducey signed a new first responder PTSD bill into law.
The purpose of this new law is to provide help to first responders who experience PTSD as a result of events they experience or witness on the job. "Arizona is grateful to the first responders who put their lives on the line every single day to protect our communities. With these commitments and sacrifices, we want to ensure that those who experience trauma on the job have access to the support they need," Ducey said.
The new law expands the number of counseling visits first responders can make, allows employees to receive compensation for time spent at counseling, and restores leave time used. The law also directs that a comprehensive study be made on PTSD claims.
"Employee wellness continues to be a top priority for our department. Besides increasing staff for the Employee Assistance Unit, we are proud to announce Crisis Preparation and Recovery (CPR) was chosen to support the Phoenix Police Department's Employee Assistance Unit (EAU) in providing psychological services. Working in partnership with EAU, CPR provides training and education services, on scene crisis intervention, screening and referral, post use of force mandatory psychological visits and counseling services to the sworn, civilian, and family members of the department," the Phoenix Police Department said on Facebook.