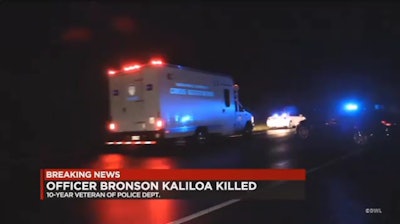 VIDEO: Hawaii Officer Shot and Killed, Suspect at Large
A manhunt is underway after a Hawaii police officer was killed in a shooting in the Big Island town of Mountain View late Tuesday, officials said.
Police have identified the suspect as 33-year-old Justin Waiki, who is accused of shooting and killing Bronson K. Kaliloa, a 10-year veteran of the Hawaii County Police Department.
It all happened around 9:45 p.m., when officers were conducting a traffic stop on Waiki's vehicle.
As officers approached the vehicle, Waiki got out and fired multiple shots — from what is believed to be a handgun — at Kaliloa, striking him in the neck and leg, officials said.
Officers reportedly then shot back at Waiki, but he managed to get away, according to Hawaii News Now.